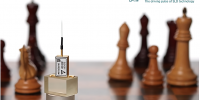 New research on Superluminescent Diodes by SUPERLUM 

SUPERLUM will present new research on Superluminescent diodes (SLDs) based on asymmetric double quantum-well heterostructures at the upcoming CLEO/EUROPE-EQEC 2019 in Munich, Germany. Join us to learn more about the remarkable advantages of these SLDs and discuss their outstanding performance with our specialists.
Our presentation will be held at the CB-P.34 Poster session on June 24th at 13:15 at Hall B0 of the CLEO/EUROPE-EQEC 2019 at Internationales Congress Center, München.
At the very same time, we are also exhibiting at Laser World of Photonics and will be glad to see you at our booth 110 of Hall B2 of Messe München. Feel free to arrange a meeting with us by sending an email to sales@superlum.ie